How to design Award Winning products:
Top 6 POV's from deep rooted experience and expertise.
Have you ever considered what sets award-winning products and brands apart?
It comes from creating holistic brand experiences through innovative, meaningful, and "unified" design solutions. Research has shown that the topmost innovative brands leverage these awards to give themselves a competitive advantage and a unique position in the marketplace. Creating an ideal user experience is a blend of art & science, and there is more than one way to become a pro. Let's look at the different strategies to implement when designing the ideal user experience.
The Why:
When people want to buy, return, maintain their products or interact with a brand's services, oftentimes they become frustrated and helpless while navigating a website. And these are products and services they bought with their own hard-earned money. It is paramount that your brand and the journey it offers be seamless, frictionless, and enjoyable. Before we get into our top 6 POVs, we need to break down why the UX experience is important for your business.
The Business:
The business of business is to make money. It's that simple. How can we as creative thinkers align our innovation strategy with that overall corporate strategy. When a business says it wants to win loyalty from its target consumers, the product and service experience needs to be intuitive, immersive, and meaningful. That's what is going to fully satisfy the customer and keep them coming back for more. And perhaps spread the word within their cohort; in-person or in the Metaverse.
The first phase of any creative process is to align with the business model: understand how it makes a profit, how the supply chain network works, the advantages of your suppliers and partners, the threat of competitors, and other macro-economic factors affecting your products design time.
The Context:
Over the years, societal values have changed along with consumer lifestyle choices. It's our duty as creatives to understand those macro and micro trends to design products that cater to these shifts in wants and needs. This is the reason for product and service evolution, year-to-year launches, and our reason to make our products and services relevant to the customers and end users. Let's identify those uncontested open marketspaces where we can position our next portfolio of solutions.
1. Embrace Differentiation:
We cannot thrive in the sea of sameness. We must stand out from our competition and be different in our design—albeit the right kind of different. The market needs original, purposeful and compelling designs and service solutions.
As a design studio, we help brands arrive at those differentiations while still retaining signature brand values. It's our job to assist in discovering target markets that will benefit from a brand's designs and become loyal consumers. The most important takeaway is to understand that you are not trying to please everyone. This will hinder the brand's ability to build a portfolio of unique, branded products.
2. Design for the Ecosystem:
We know that we can't produce good design on our own. We must step back and look at all the connections in our ecosystem—how our product works with other products and services. We research these peripheral categories to uncover the current unmet needs, unspoken wants and unarticulated desires of our market. Many times, we identify complementary partners and create aspirational experiences that are almost impossible for our competitors to replicate. This strengthens our ecosystem and the designs we develop to better serve our customers.
3. Customer Experience:
The experience spectrum is wide. Apart from designing for the actual product user experience, you must design the entire workflow for the user to better understand your brand, its values, benefits, and limitations. The user then needs to understand the buying process, setting up any accounts, use scenarios, and the dashboard for everyday use to get the most out of their product purchase.
This calls for engaging research to be done on possible user journeys. The integration of the physical and the UI/UX domains is critical. You must understand all three stages of experience: before, during and after, for both the physical and digital journeys. The seamless and intuitive UI/UX journey is what customers desire and we design it to be on-brand so end users can utilize it to the fullest.
4. Humanizing Technology:
People want to buy the benefits of a product and avoid understanding the overwhelming technology that comes with the experience. This does not mean we have to dumb down our products. We must analyze, synthesize and translate complicated concepts so that they are easier to digest. If we unpack our emergent technology and make it easier to understand, we can create a positive experience that doesn't cause an information overload.
5. AR/XR:
There is no reason your product shouldn't be smart. It doesn't need a battery, screen or electrical connection. We can still leverage augmented reality to enhance a user's experience with your product. There are numerous ways to incorporate AR into a customer's journey. AR/XR functionality helps bridge the gap between in-store and online shopping.
AR also lets your customers try your products wherever they are, on their smart device. There are numerous ways to brand this feature beyond your website. Placing a QR code on the product or packaging itself will make for a smoother customer experience when they have questions or even concerns or if their product requires maintenance or service in its usable life.
6. Sustainable Product Design
One of the most robust trends emerging is the intent to be more sustainable as a brand. Gone are the days of green washing and creating a make-believe green façade. It's not just the use of sustainable materials or recycled raw products, it's the core design methodology. Brands are looking at the entire product architecture and the way the product works. Are you designing products with easy repairability or are you designing for ease of recyclability at the end of life?
We help brands achieve sustainable product design through our innovation phase where we frame the business intent, create the product architecture and design an eco-friendly product. Can we design for modularity, so end users can re-use parts in other use cases? Can we design for a circular economy and make it fashionable and profitable too? Can we design flat packaging, or a DIY mindset?
Invitation:
Each brand and its positioning are different. Is there a single equation for a successful product – the answer is no. Every use-case is different. Every approach is customized for each product's timeline, scope and budget.
We have experience and expertise in cross pollinating between industry categories. We work to understand a brand's unique challenges and build a set of solutions to turn a product, service, or experience into a sustainable success.
I am offering a complementary 45-minute Webex session where we can discuss emerging trends and how the most innovative companies are re-inventing themselves. I will also share a handful of Huemen case studies and how our clients are reaping the benefits of designing for the full range of experiential design.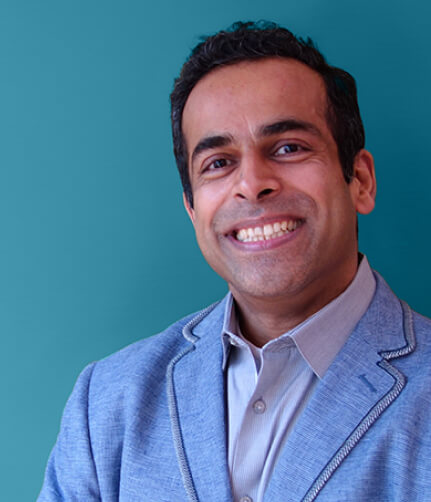 Jeevak Badve Director, Innovation Strategy & Business Growth Huemen, Detroit
Jeevak Badve brings energy, passion and curiosity to his role as Director of Innovation Strategy at Huemen, an award-winning, full service, multi-disciplinary global design & brand agency. His sole purpose is to create and deliver holistic brand experiences through unified design solutions for his clients who value end user experiences and giving them a competitive advantage in the marketplace.
For more than 20 years he has artfully blended business and design thinking to sustainably grow businesses around the world. He earned his Master's in Product Design from IIT-Bombay & his EMBA from Michigan State University. He loves bird photography, kickboxing and obstacle course running.
We work across disciplines, around the globe, to unlock a brand's true potential.
Looking to join a dedicated team with
and create meaningful experiences that change the way people interact with the world?
View our open positions