HARMAN collaborated with Rinspeed on their concept cars to bring future connectivity and intelligent infotainment systems to life, and inspires connectivity features going into the next generation of production cars.
Driver-First Innovations
In collaboration with Rinspeed, the concept car demonstrates a series of industry-firsts including a full windshield heads-up display and an augmented reality concierge. The car infotainment system dashboard features a voice-controlled assistant, predictive collision prevention, intelligent e-mirrors and uses pupil monitoring to measure the driver's cognitive load and drive-readiness. Rinspeed's highly automated concept cars, like Oasis, incorporate a living room experience complete with even bookshelves. The minutes spent merging onto highways is now replaced with more enriching activities like reading.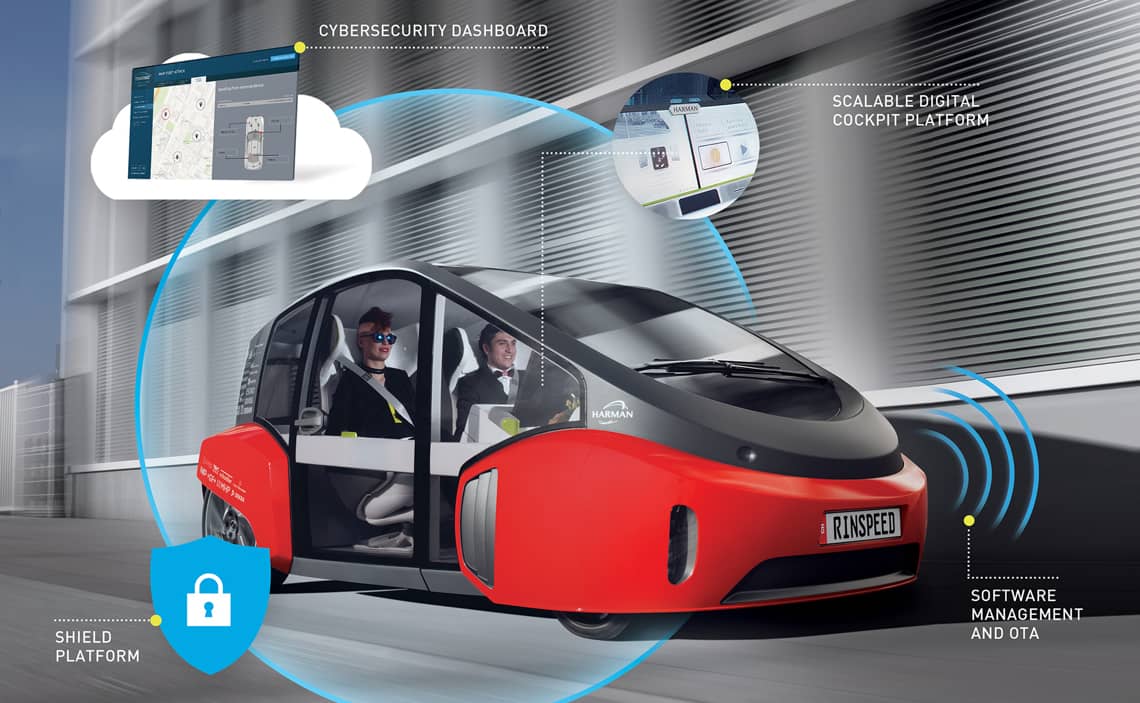 A Start-to-Finish Journey
The concept car creates an elevated, intuitive driving experience in both autonomous as well as manual modes. It demonstrates a start-to-finish engagement with the driver and passengers, with contextual interactions right from when they enter the car up until they arrive at their destination. HARMAN has worked with Rinspeed to develop an interior that addresses current and future display trends which see consumers using multiple screens in their daily life, right from their home computer, to smartphone, to tablet, to smart TV, to their work computer and back again.

With Life Enhancing Intelligent Vehicle Solutions (LIVS), HARMAN's system is so embedded in the connected world that it can anticipate otherwise unforeseen traffic changes. An intelligent voice-activated assistant integrated into the automotive infotainment system contextually adapts to tasks the user may want carried out in the car, enabling the user to order flowers on Valentine's Day, pointing out restaurants in the area that the user's Facebook friends may have liked and much more.